Wed, Sep 28, 2016 at 9:35AM
---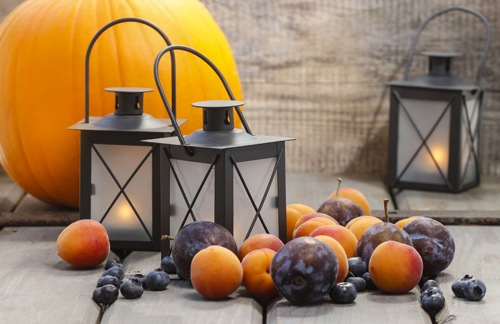 While having the right home insurance can offer you an unparalleled peace of mind, one thing remains true—the best policy is the one you never have to use! And to help ensure that you never do, we've put together a list of smart safety tips for your home this fall.
Test your smoke detector
It's a rule of thumb to test your smoke detector every month—but if you haven't quite been keeping up, this switch of season is the perfect time to start. Test your system to ensure that it's working well and the alarm can be heard with ease (it, of course, should be loud and obnoxious!).
If you haven't changed your smoke detector's batteries in the last six months, now is also a good time to switch out your current batteries for fresh ones. You'll be able to relax knowing that your home is safe and prepared to handle the unexpected!
Enjoy candles and fall cooking with care
Be sure to practice basic fire safety this fall. At this time of year, we like to bring out our favorite fall scents in the forms of sweet-smelling candles. Always be sure to blow out candles before leaving a room or settling in for a nap, and keep them away from curtains and other flammable materials. Also, as you get ready to enjoy fall cooking and baked goods, be sure to keep your cooktop and oven clear (and free of old crumbs and other particles) and keep an eye on your food as it cooks. Finally, when Halloween rolls around and you're ready to light up your hand-carved Jack-O'-Lanterns, consider using flameless candles so that your creations can "burn" safely and brightly all night long!
Lock doors and windows before bed…
…and before leaving the house. Here in Florida, we love to open our windows when the temperatures start to dip. While that fall breeze is something to look forward to, it's important to remember to lock up once you're headed to bed or are off to work for the day.
Clean your dryer filter
As you take your favorite fall linens out of the dryer, be sure to clean out your dryer filter and get rid of any leftover lint to keep your machine running safely and smoothly all season long.
Keep up your landscaping
Keeping tree branches neatly trimmed isn't just a great way to maintain a sharp landscape—it can help to keep your home safe, too! Head outside, enjoy the cooler weather, and devote some time to brief fall landscaping you'll enjoy for the rest of the year.
By following these simple tips, you're one step closer to enjoying a fun, stress-free fall with the family. From all of us here at Ed Jones Insurance, we hope you have a very happy season ahead!
---
Bookmark & Share
---
User Comments
Be the first to comment on this post below!